Many teachers enjoy the use of mind mapping exercises in their classrooms. Here is a very sharp looking tool that is free and very easy to use. I really like the potential this has for students to use in a project for either online or brick and mortar classes.
The tool is called
Lovely Charts
and while I find the name makes me feel awkward as I use it and talk about it, the charts it makes are pretty nice.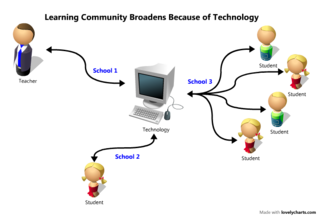 This is an example of a small chart that I threw together in just a few moments and I like the way that it looks. There are lots of icons that can be used for flowcharts, wireframes, sitemaps, and other diagrams. I think this could easily be used for a mind mapping tool given the basic symbols and the very easy addition of arrows to the project. Sizing and placement of the items on the screen is very easy. You can save your work and you can also export the diagrams as JPG or PNG files.
I think that it is worth checking out. What types of ideas do you have about how this could work in your classes? I look forward to your thoughts.